Diwali 2022 Jewelry Lookbook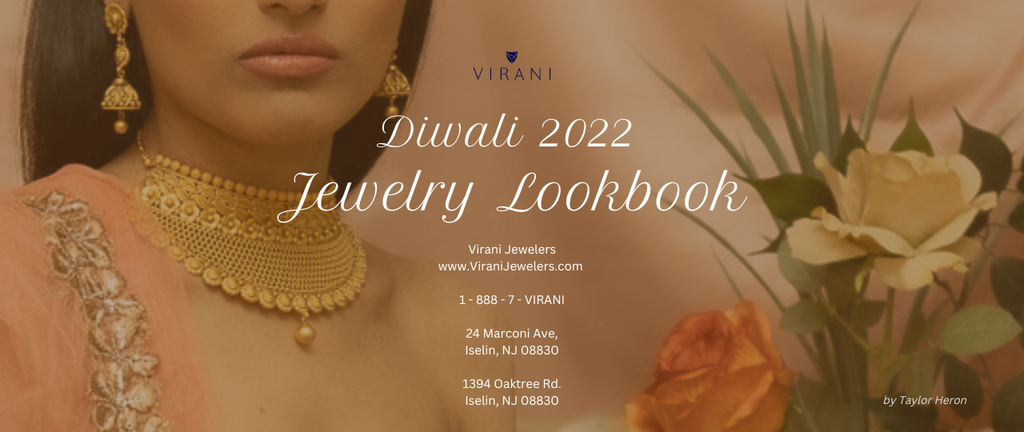 The Richness Of Jewels
Diwali is all about lights. Gemstones and jewels will add color and shine to any Diwali outfit and be the perfect addition to your look for the holiday. Donning an assortment of blemished emeralds, rubies, sapphires, and other precious gemstones encrusted into 22k Indian gold is the best way to light up up the room with vibrant beauty. This auspicious Indian holiday calls for Indian jewelry with religious and spiritual meaning. Jewels and gemstones enhance the significance of traditional and temple jewelry with historical and spiritual meanings authentic to Indian culture. Choosing jewelry with colorful jewels and gems will allow you to be the light this celebrations needs.
22K Yellow Gold & Gemstone Jhumka Earrings (68.6gm)
The colorful arrangement of gemstones used to create these 22k yellow gold jhumka earrings bring a vibrant appeal to the traditional jhumka earring design.
22K Yellow Gold, Emerald & Ruby Bangle Set (65gm)
This set of 22k Indian gold bangles has a beautiful assortment of colorful gemstones that create a radiant contrast against the gold filigree frame of these stunning bangles.
Minimal Elegance
You can keep your jewelry look simple this Diwali and still bring the excitement. Our minimal 22k gold jewelry collection can add a shimmer and shine to your outfit to make your Diwali extra special. The allure of unique details added to our minimal Indian gold jewelry brings out the true beauty of each 22k gold designs and look of luxury only achieved through our expert craftsmanship.
Add these dazzling 22k yellow gold hoop earrings to your ears for Diwali. The jhumka details and filigree work give these simple gold hoop earrings a modern and stylish allure.
Cultural Significance
Temple and traditional jewelry bring the very best of Indian heritage and history to the forefront with a dazzling air of sophistication. Adorning yourself with the finest 22k Indian gold jewelry depicting sacred deities or showcasing centuries old Indian jewelry craftsmanship is the perfect way to celebrate the highly auspicious holiday that is Diwali. As you join together with family and friends to celebrate this year's Festival of Lights, having special pieces of Indian gold jewelry that represent the rich history of Indian culture and community will magnify the prosperity and good fortune Diwali brings.
22K Gold Double-Sided Goddess Lakshmi Pendant (49.2gm)
This magnificent 22k Indian gold pendant features a beautiful depiction of Goddess Lakshmi adorned with emeralds and rubies. This one of a kind pendant can be worn on either side, giving you the versatility of having two gold pendants in one.
22K Antique Gold & Enamel Jewelry Set (75.8gm)
This colorful 22k Indian gold jewelry set has all the frills and thrills for any woman who loves colorful jewelry. Green enamel, rubies, and an intricately beaded 22k gold design is used to bring this Indian gold necklace and earring set to life.
Beaded Beauty
Beads have long been used to create stunning Indian jewelry designs. A beaded necklace, bracelet, or pair of earrings for Diwali can transform any outfit from casual to chic. Beads are a huge part of Indian jewelry culture and can add an alluring texture to your ensemble. 
22K Antique Gold Chandbali Choker Set (81gm)
This 22k gold beaded choker set will add a vibrant layer of shine to your traditional attire for Diwali. The beaded design and style of the Indian gold chandbali earrings and necklace is perfect for this festival of lights.
22K Yellow Gold Beaded Jewelry Set (24.2gm)
The sophisticated layers of beading used to design the 22k Indian gold necklace and earrings of this stunning jewelry set will add a touch of class to any outfit you pair it with.
Feminine Sophistication
Adorning yourself with the most ladylike 22k gold jewelry pieces is never a bad idea, especially for Diwali. Feminine details such as florals and pearls brings a sense of sophistication and class to any occasion. Embracing your feminine energy this Diwali gives you a chance to remember your innate power, wisdom, and the contributions you make to those you surround yourself with.
Our unique collection of 22k gold necklaces, earrings, bracelets, and bangles can add the feminine appeal your outfits need this Diwali. 
22K Yellow Gold Daisy Bangle Set (72.4gm)
Pair this youthful set of 22k Indian gold bangles with casual outfits, business looks, or evening gowns when you are looking to add a a pair 22k gold bangles that are fun and feminine.
22K Yellow Gold Embellished Jhumka Earrings (25.1gm)
Let this glamorous pair of 22k yellow gold jhumka earrings be the highlight of your look for Diwali.
---