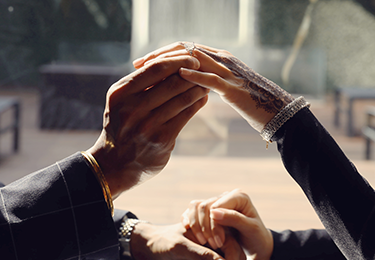 Love by Virani
Whether love at first sight or a friendship bloomed to much more, these real life love stories recount the memories of a unique love. For every significant detail and for every special moment Virani has the perfect engagement ring to symbolize its depth.
Karisma & Tej
Our love story began on New Year's Day, 2017. I was attending my cousin Vinnie's wedding and Karisma was a friend of the bride. I saw her walking around the Sangeet with her parents and once I locked eyes on her I knew right then that I would one day marry her. As soon as I said the first words to Karisma, she replied with a smile. As her gentle eyes looked at me, my heart was stolen.
Seema & Sunny
Sunny and I met through a mutual friend who I was visiting in NYC in December of 2014. I returned home to Vancouver after the trip and Sunny and I continued to speak almost everyday. After 6 months of consistent communication we decided that we wanted to be together and that long distance would on longer work for us. I moved to NYC to be with Sunny permanently and within that same year we founded our company Venus Et Fleur. In June of 2017, on the terrace of a suite at the Shangri-LA Hotel in Paris, Sunny proposed to me with a scenic view of the Eiffel Tower just behind us.
Adeel & Laila
Laila and I met in February of 2014, the day after Valentine's Day. I had known about her through my now brother-in-low so when we met she had no clue that I was already interested! We started communicating on a regular basis and I decided to visit her in April of 2014. Needless to say, our first date lasted 12 hours!
Amanda & Romit
We met at a mutual friend's birthday dinner. He sat next to me and had me laughing throughout the evening. We hit it off immediately and our connection was so natural, as if we had known each other forever. We fell in love without even knowing it. We became best friends who enjoyed each other's company and to this day he is the last person I want to talk to before I go to bed and the first person when I wake up.