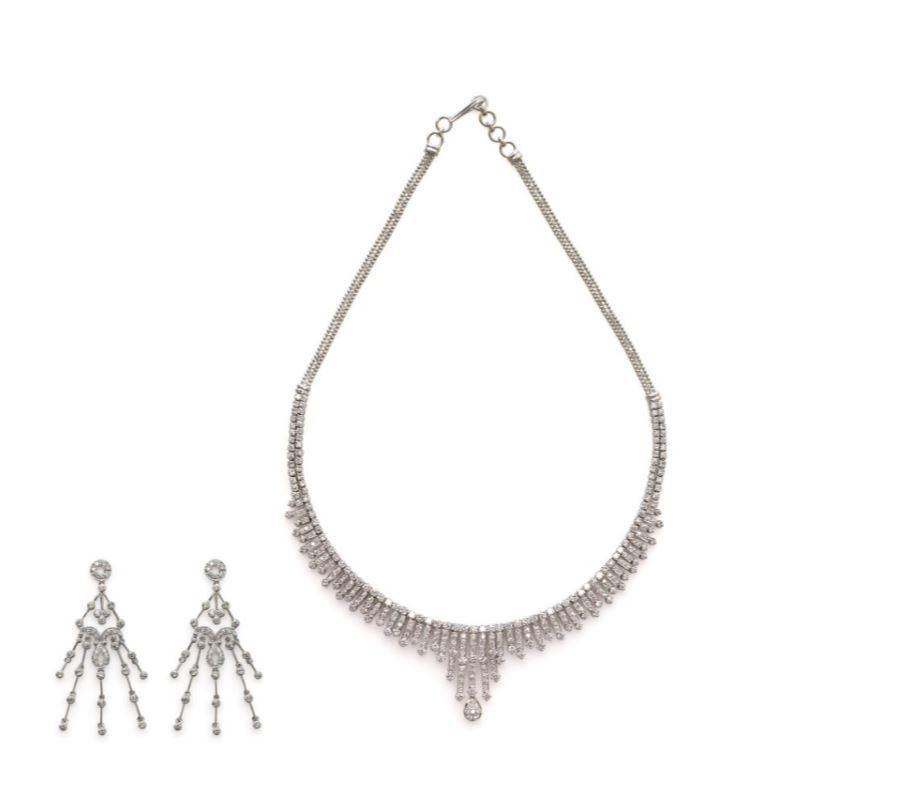 ---
Reflect the light of luxury and art with the exquisite design of this most stunning 18K white gold diamond necklace set from Virani Jewelers!
Features:
• Radiant 18K white gold • 9.45ct VVS diamonds - round brilliant (cut) E-F (color)
• Avant Garde design
• Necklace and earrings included in set Discover the unmatched quality of Virani Jewelers certified diamond jewelry selection, carefully scouted from around the world for your satisfaction. Behold this stunning 18K white gold diamond necklace set that perfectly blends the elements of luxury and art. This set features a unique Avant Garde design, reflecting chandelier rain and fully encrusted with 9.45ct certified VVS round brilliant diamonds with an E-F color. The short necklace has a delicate display of raining accents that immediately illuminates the collar when worn. It also features a hook-in-eye closure for easy wear. The diamond earrings are a perfect complement to the necklace. They have a more wide spread detail of raining accents and a smooth back post. This set can be worn as wedding day jewelry or with a beautiful gown at any special affair. Explore our vast and extensive collection of 22K gold and diamond jewelry pieces to find more unique jewelry for any and every occasion.
Specifications:
• Necklace length 32 Inches
• Necklace width 1.6 millimeters wide (minimum) – 4.07 millimeters wide (maximum)
• Earring length 4 millimeters
• Earring width 1 millimeters wide (minimum) – 2.6 millimeters wide (maximum)
• This necklace set has a total weight of 56 grams
---
---
---
---
---
---