10 Best 22k Gold Jewelry Pieces For Navratri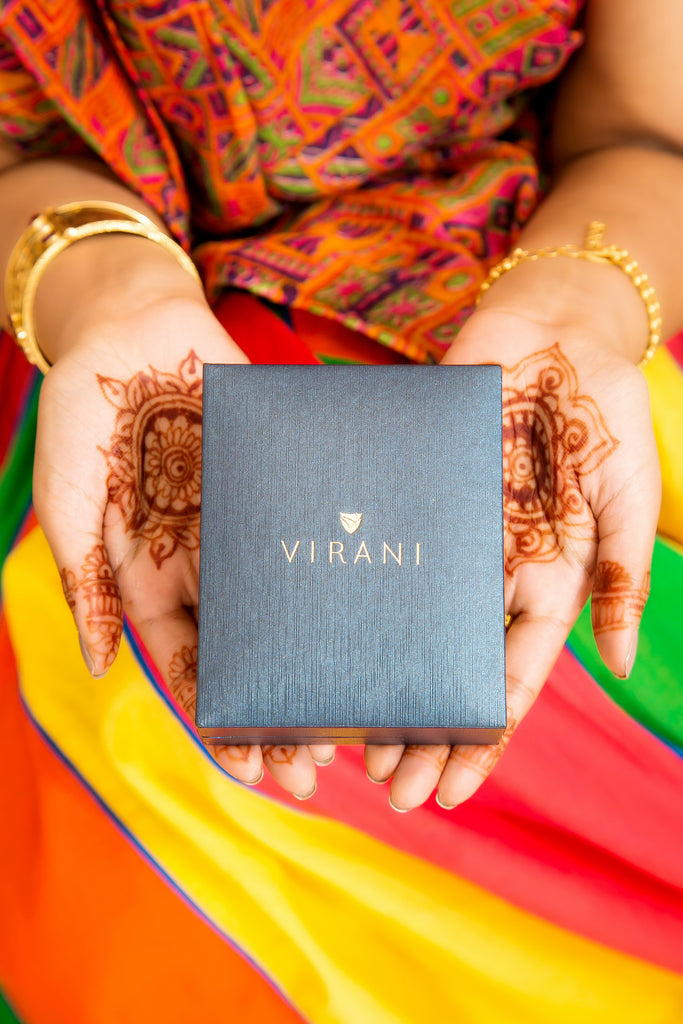 Navratri, the vibrant and spiritually significant Indian festival, is right around the corner. As we prepare to celebrate the triumph of good over evil, it's the perfect time to adorn ourselves with the richness and elegance of Virani's 22k gold jewelry. This Navratri, dive into the world of our exquisite Indian jewelry and explore the temple and antique styles that evoke tradition and timeless beauty. Whether you're dancing to Garba beats or attending puja ceremonies, these 22k gold jewelry pieces are perfect for the occasion.
Bangles: Ornate Arm Elegance
No Indian ensemble is complete without the melodious clinking of bangles on your wrists. For Navratri, opt for stunning temple-style gold bangles with intricate designs that narrate tales of divinity. These gold bangles are not only a symbol of tradition but also a testament to your refined taste. Choose from our collection of gold bangle designs that feature gods and goddesses, or those adorned with emeralds, rubies, and other gemstones that add vibrancy to your movements.
Necklaces: Graceful Neck Adornments
Navratri nights call for a statement necklace that captures attention and hearts. Antique gold necklaces with intricate patterns and temple motifs are perfect for this occasion. Whether you prefer a choker or a long, layered piece, the warmth of 22k gold will illuminate your neckline. These necklaces are not just pieces of gold jewelry; they're heirlooms that carry the essence of generations.
Earrings: Dazzling Elegance
Earrings are the sparkling stars of any Indian jewelry collection. For Navratri, indulge in earrings that embody the charm of Indian tradition. Jhumkis, Chandbalis, or antique-style gold studs are exquisite choices. The delicate craftsmanship and temple-inspired detailing on these gold earrings will make you feel like a goddess yourself. They are the perfect companion for traditional attire and celebrating this auspicious occasion.
Bracelets: Adorning Your Wrists
Navratri is the perfect time to explore the diverse world of 22k gold bracelets. These intricately designed pieces of Indian jewelry with beading and other rich details can be worn as an extension of your unique personality. Choose from links, diamonds or delicate, layerable bracelets to make a unique style statement.
Chains: Timeless Elegance
A 22k gold chain is a timeless piece of jewelry that complements any look, be it traditional or minimal. For Navratri, consider chains with beaded details or those featuring unique motifs or adornments. These chains not only add a touch of elegance but also hold sentimental value, making them a prized possession in your jewelry collection.
Temple Jewelry: A Glimpse into Tradition
Finding the Perfect Piece
When browsing through our catalog of Indian jewelry in your search for Navratri accessories, it might be helpful to keep these factors in mind:
Design: Look for intricate temple motifs or antique detailing that resonate with your style.
Quality: Opt for 22k gold for its purity and lasting beauty.
Comfort: Ensure that the jewelry is comfortable to wear during long festive nights.
Versatility: Choose pieces that can be paired with both traditional and contemporary outfits.
Emotional Connection: Select jewelry that speaks to your heart, as it will hold sentimental value.
Navratri is a time for celebration, spirituality, and embracing our rich cultural heritage. The choice of gold jewelry for Navratri is not just about accessorizing; it's about connecting with tradition and expressing your inner divinity. Whether it's the melodious clinking of gold bangles, the elegance of antique necklaces, the dazzle of Jhumki earrings, the timelessness of gold chains, or the grace of beaded gold bracelets, each piece tells a story and adds to the beauty of this festive season. These exquisite pieces not only enhance your outer beauty but also reflect the timeless traditions and spirituality of Indian culture. So, go ahead, adorn yourself with the best 22k gold jewelry for Navratri, and let your inner beauty shine. Remember, these pieces are not just ornaments; they are a testament to your heritage and a celebration of your individuality. Happy Navratri!
---