Virani Gold Jewelry For All Indians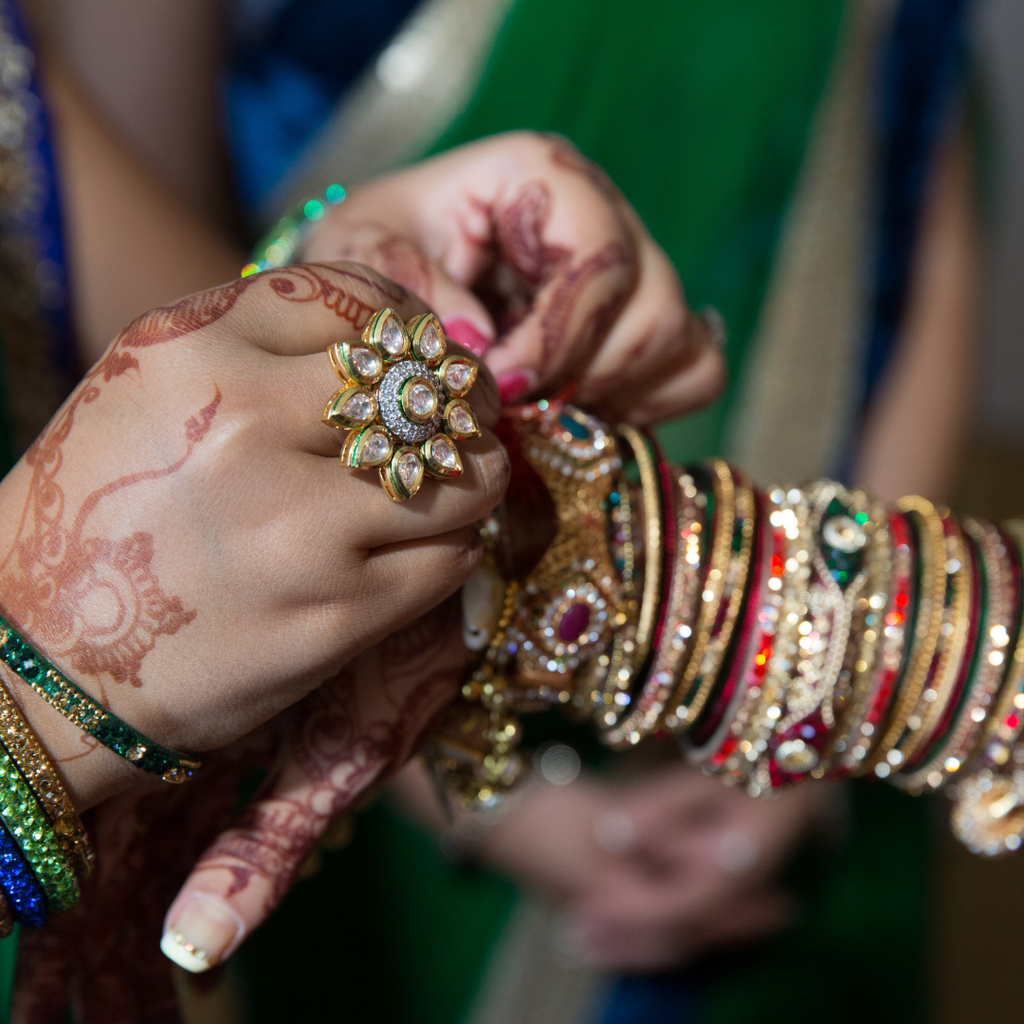 Indian gold jewelry is a uniting force between the various Indian people and their religions or spiritual beliefs. This beautiful country is made up of heterogeneous people whom share deep historical and religious ties to their ancestral land. Gold jewelery is the cultural glue that holds together the varying religions, faiths, and unites them together as one Indian people. 
These culturally diverse communities in India follow different religions and faiths, each possessing their own traditions and customs. While some religions in India observe the same holidays and festivals, like Diwali and Gandhi Jayanti, others have their own ceremonies and festivities specific to their religious or spiritual devotions. 
However, the one thing that each religious community has in common is their strong affiliation with wearing and buying gold jewelry in a number of traditional Indian styles as a way to celebrate holidays, festivals, and deities. At Virani Jewelers we carry many traditional Indian jewelry styles in 22K gold designs that cater to all Indian communities and spiritualities, like our 22K Indian gold Om symbol collection. 
The subcontinent of India is gifted with myriad jewelry styles that have originated from the multiple heterogeneous communities in India over the centuries and our collections are a reflection of such history. Some of these crafts of jewelry-making have lived through ages and gained popularity in the world of fashion and art. For example, our Kundan jewelry and Polki jewelry collections reflect some of the oldest forms of jewelry making in India. Kundan is a traditional form of gemstone jewelry making involving a gem set with gold foil between the stones and its mount, usually for elaborate necklaces. The word kundan means highly refined gold, and a highly refined and pure form of molten gold is used.
Beyond the well known 22K gold bangles styles, their are many other traditional Indian jewelery pieces we carry that are loved and worn by all Indians. Our 22K gold chandbali earring designs are highly favored amongst the Muslim Indian community yet still a beloved earring style worn by women all over India for a number of ceremonies and festivities. 
Maang tikkas are a special ceremonial jewelry worn by Indian braids of all faiths. A maang tikka is a traditional piece of head jewelry that is worn by South Asian women on their wedding day or for other significant cultural events. The spot where it rests on the forehead is known as the Agya Chakra and signifies the holy union of man and woman on a spiritual, physical and emotional level. 
No matter the holiday, occasion, religious faith, or spiritual practice, gold jewelry remains a strong cultural force that all Indian people can use to relate back to their country and its people. 
---